Genomics
G.STATION for Next Level NGS Library Prep
next-generation sequencing (NGS) revolutionized genomic research into a new era. The G.STATION will take NGS to the next level
---
Technology, like the G.STATION for next-generation sequencing (NGS) revolutionized genomic research into a new era. Over the past few years, NGS technology has steadily improved, with costs dropping and sequencing applications expanding exponentially.
Next Level NGS Library Prep
NGS library preparation is simplified with automated liquid handlers like the G.STATION NGS Workstation, more samples can be processed faster than by manual pipetting, contamination can be avoided, and errors can be greatly reduced during sample preparation for sequencing. Researchers can compare data across experiments using an automated handler to ensure reproducibility between library batches.
G.STATION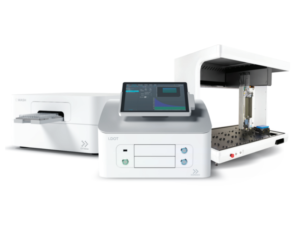 G.STATION is the ultimate solution for automated NGS Library Construction, enabling users to easily execute an entire workflow with state of art liquid handling technology. DISPENDIX's cloud-based software is a connected experience that allows you to simply choose a protocol, the number of samples and hit run. Three easy steps.
The G.STATION takes the guesswork out of NGS library preparation with its cloud-based software you can run simulations before dispensing. Therefore, savings on labware and time. It uses a fraction of the pipette tip consumables decreasing your overall cost per library. With an optional 384 configurations which allows you to miniaturize library preparation driving down the cost of sequencing sample preps allowing you to run more samples.
In addition, with the software you can access your data and share it with anyone. In fact, you can build your protocol from anywhere, anytime.
The ultimate combination for NGS
DISPENDIX has put together innovative tools that are designed for the task at hand. An automated liquid handler, the L.DROP with on-deck thermal cycling, shaking and temperature control with a novel bead-based clean up solution and an enzyme dispenser that will quickly change the way you approach library construction.
To learn more about the G.STATION, book a demo today. Read more about how to optimize NGS Library Prep.