Genomics
Scale-Up Your NGS Library Prep Workflows with I.DOT L
Scale up workflows and save on reagents with an accurate liquid handler.
---
NGS LIBRARY PREP WITH THE I.DOT L
The I.DOT Liquid Handler uses eight individually controlled positive pressure channels to generate droplets from 8 to 50 nanoliters from a small hole at the bottom of each well. Each channel can generate up to 100 droplets per second giving control and speed to the users.
It can handle multiple liquid classes, has very low dead volume, and uses the unique built-in droplet verification technology.
I.DOT Non-Contact Dispenser minimizes the risks of cross-contamination, reduces time and labour, dispenses accurate reagents volumes, lowers cost on reagents and makes the use of pipette tips unnecessary. Overall it increases the reliability and the reproducibility.
I.DOT technology is evolving: I.DOT L - with a large source liquid capacity
In an effort to meet your needs, to improve the productivity, sustainability, and cost-effectiveness of your genomics workflow, our research and development teams worked arduously to create a new liquid handling solution- I.DOT L Non-Contact Dispenser.
Increase the total dispensing volume by more than 6 times: I.DOT L Non-Contact Dispenser allows you to technology extend your source volume from existing 80 µL to 500µl per single source well. Increasing the total dispensing volume from 7680 µL to 48000 µl.
Automate liquid class creation: Creating your custom liquid class has never been easier! With the liquid class creation wizard, simply dispense a predefined protocol and fit your custom liquid class perfect to your dispensed reagents.
Automate workflows: The I.DOT L Non-Contact Dispenser can be integrated in fully automated workstations via its API. With the extension of the source volume, less source plates are needed to fill more destination plates without human interference.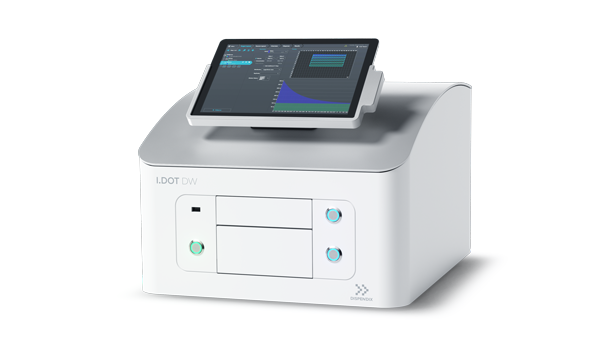 I.DOT L Liquid Handler could be a perfect fit for high-throughput NGS library preparation workflow
With high source liquid volume, process multiple plates with unmatchable speed dispense high volumes like 20 µL across 96-well plate in less than 1 minute.
The I.DOT L could be employed in NGS library preparation workflows from the beginning, with nucleic acid extraction in 96-well plates, to the very end, with library amplification and library pooling.
You can leverage I.DOT L Non-Contact Dispenser to dispense all the reagents required in following stages of NGS library preparation protocols:
Sample preparation- High-throughput nucleic acids (DNA/RNA isolation)
Enzymatic fragmentation
End repair and adapter ligation
PCR amplification
Indexing
Library pooling
Get in touch to learn more. Book a demo today.
Interested in learning more about NGS Automation? Read more articles on our blog.