Technology
Tech Spotlight: I.DOT L
The I.DOT is a liquid handler for NGS, qPCRm or adding cells, compounds, and buffers for Assay Development or High-throughput Screening.
---
Latest technology in non-contact dispensing for fast and reproducible results every time.
The I.DOT is a liquid handler that anyone can use regardless of automation experience. The instrument transfers low volumes with unrivaled precision and speed while dramatically reducing your laboratory's plastics and reagent consumption. The I.DOT Liquid Handler offers unrivaled precision and ease of use for efficient and reproducible sample preparation.
I.DOT L has all the features from the regular I.DOT with a few added benefits
Whether you are dispensing enzymes and beads for NGS or qPCR or adding cells, compounds, and buffers for Assay Development or High-Throughput Screening, the highly flexbile I.DOT L can support all your liquid handling needs.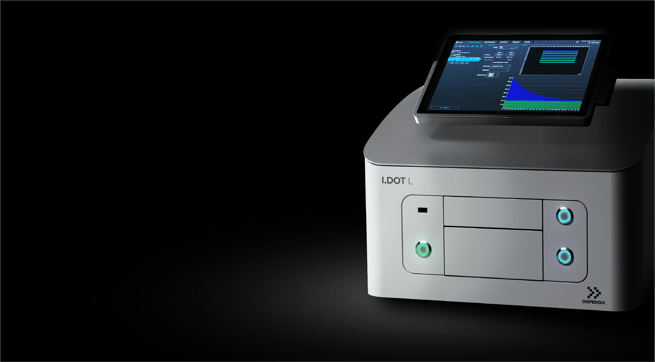 Extend your source volume throughput!
From 80 μL to 500 μL per single source well, we increased the total dispensing volume from 7680 μLto 48000 μL. A more than six-fold increase! This allows to dispense from ultra-low volumes up to high liquid transfers.
Automated liquid class creation
Creating your custom liquid class has never been easier! With the liquid class creation wizard, simply dispense a predetermined protocol and fit your custom liquid class perfect to your dispensed reagents.
Missing a droplet?
Our Drop Detection feature, along with the software realizes where and how many droplets have been missed and lets the user re-dispense this right after the dispense run. To ensure correct liquid transfers down to the nanoliter level.
Optimized for automation
The I.DOT L Non-Contact Dispenser can be integrated in fully automated workstations via its API. With the extension of the source volume, less source plates are needed to fill more destination plates without human interference.
I.DOT L Liquid Handler automates life science workflows and executes them more efficiently.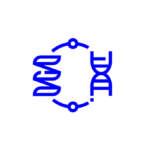 The I.DOT L Non-Contact Dispenser enables you to do sample preparation for single cell proteomics for a deep resolution of the proteome. Enhance NGS Library Prep and leverage miniaturization, low-volume dispensing and low dead volume. Dispense high-viscosity solutions with ease and reduce time.Ideal for:
Indexing for NGS
Genomics
Pooling libraries
CRISPR reactions
PCR setups (Parallel analysis of a multitude of genes in high throughput PCR plate preparations)

Miniaturize your cellular assays into a 1536 plate. Dispense up to 96 different source liquids using a different volume in each well with I.DOT L's DoE-friendliness. Ideal for:
Assay development
Synthetic biology
Compound dispensing
Cell dispensing
High-throughput screening
Find the right I.DOT for your lab today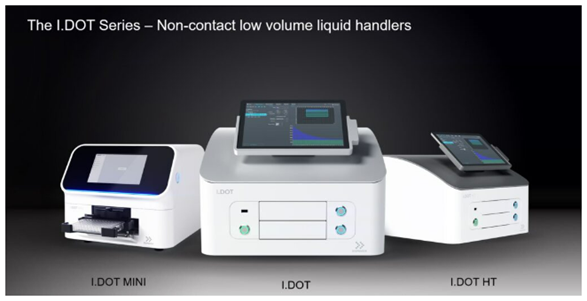 With our ever growing product line, it is easier to find the right I.DOT for your lab. Book a demo today or download our brochure.